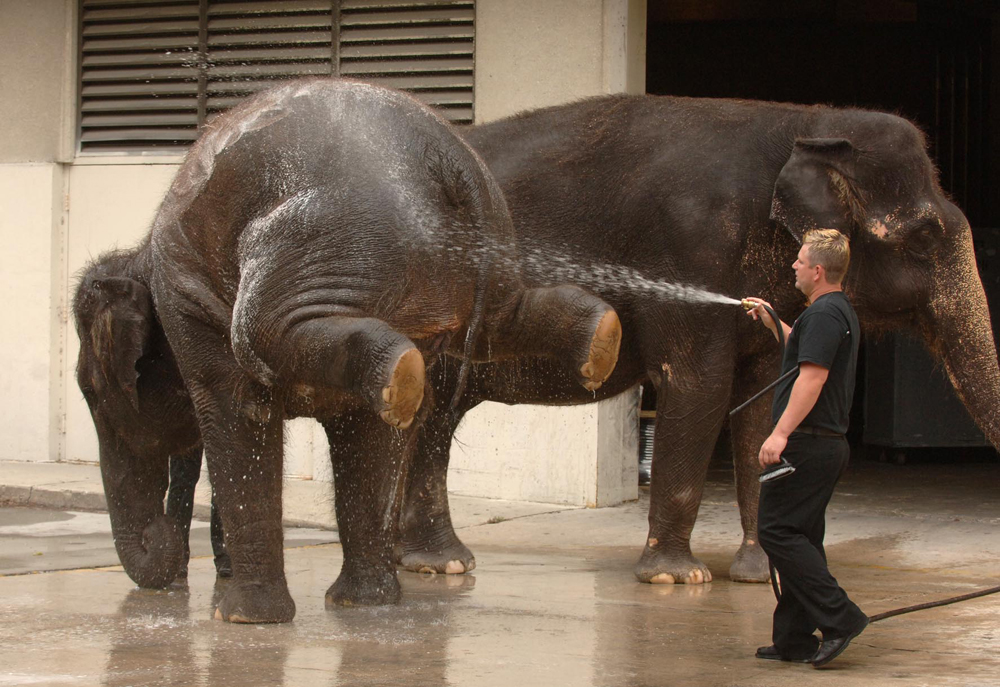 Vask elefanten
Storm P. var forfatter og søn af en driftig slagter. Han har lavet et hav af finurlige tegninger og tekster, til eftertanke og et smil på læberne. Han boede tæt på Zoologisk Have. En dag kom en ung idealistisk mand på besøg og fortalte, at han ville ud i verden og gøre en forskel. Han ville gøre noget stort og rent for verden. Storm P. var praktisk og havde ikke meget til overs for drømmere. "Så tag hen i Zoologisk Have og vask elefanten. Så gør du noget stort rent!"
Altså: livet handler om at smøger ærmerne op og tage fat i det nære, der hvor der er behov. Forpligte sig og komme ud over de navlebeskuende drømme. Man må godt have en drøm, et mål, en vision. Astronauten, Andreas Mogensen, havde drømmen om at komme ud i rummet. Og det lykkedes. Ikke kun fordi han havde drømmen, men også holdt ud, blev ved og ikke var bange for de mange års slid og trivielle opgaver.
Vi når noget, vi lykkes, hvis vi tør forpligte os. Det er ikke så in i tiden. Her handler det måske mere om selvrealisering, at finde sig selv og sin indre kerne, gøre hvad man føler og følge sin lyst og ambition. Det kan der være meget godt i. Faren er dog, at vi opdager, at der ikke er så meget at komme efter, når vi kigger indad. Ligefrem et stort sort hul. Det er sundere at kigge udad og i den udadrettethed blive slebet til som menneske.
Svend Brinkmann er psykolog og professor på Århus Universitet. Han har skrevet bogen "Stå fast", som et opgør med en accelererende, stresset og selvoptaget kultur, hvor man kun har fødder, men ikke rødder. Han sætter tingene på spidsen, men han har en pointe. Overskrifterne for kapitelerne i hans bog er:
1. Hold op med at mærke efter i dig selv
2. Fokuser på det negative i dit liv
3. Tag nej-hatten på
4. Undertryk dine følelser
5. Fyr din coach
6. Læs en roman – ikke en selvhjælpsbog eller biografi
7. Dvæl ved fortiden
Det lyder som opskriften på et kedeligt liv, og man falder næsten ned af stolen af forbavselse, når man læser det. Men bogen er meget spændende og tankevækkende. Læs den!
Her skal blot trækkes frem, hvad Svend Brinkmann, skriver om de gamle græske og romerske stoikere, som han blandt andet henter sin inspiration fra. De lagde vægt på selvbeherskelse, sindsro, værdighed, forpligtelse, venlighed og en besindelse på livets endeligt. Målet for dem, var ikke lykke eller succes, men sindsro.
Stoikerne anbefalede negativ visualisering, modsat tidens trends. Hvad vil der ske, hvis jeg mistede det, jeg har nu. Istedet for at tænke i konstante muligheder, anbefalede de, at man kendte og glædedes ved sine begrænsninger. Hvor man idag, for at være autentisk, skal udtrykkes sine følelser i tide og utide, anbefalede de, at man ind imellem skulle undertrykke sine følelser. Hvor man idag undgår døden, som et tabu, anbefalede de, at man hver dag tænkte over sin dødelighed, for at udvikle en taknemmelighed over det liv, man har fået.
Vi skal ikke smide de landvindinger over bord, som handler om at kunne mærke sig selv, sætte ord på sine følelser og derved blive i stand til også at mærke andres følelser og tage dem seriøst. Det vi skal smide over bord er slagsiden, hvor projektet bliver en usund selvoptagethed, hvor jeg drøner rundt fra sten til sten uden nogensinde at finde et holdepunkt i tilværelsen.
Og hvorfor skriver jeg som skoleder så alt det? Fordi vi voksne skal sørge for at have rødder og turde give de rødder videre til vores børn.Vi skal hjælpe vores kære børn med at tage fat i livet, som det nu er. Med beskidte elefanter, som skal vaskes. Og se det store i det små!
Sept. 2015/John