Struktur
Samvær
Stimulans
Søvn
Sundhed
Skal en skolehverdag lykkes, er disse 5 s´er vigtige.
Struktur handler om gode rytmer med, hvordan man putter børnene, hvornår de skal i seng, små opgaver de kan tage del i, lektielæsning, et ugeprogram som er realistisk for alle med pauser, ro og tid til opladning.
Samvær er kvalitetstiden sammen med dit barn. Nogle gange på de voksnes præmisser, andre gange på barnets eller en god mellemting. Spil spil (og lær jeres barn at tabe med oprejst pande), læs en bog, lav lidt havearbejde, cykel en tur, lig på græsset og kig på skyerne sammen ….. Lad barnet fortælle, snakke, aflade, lade op.
Stimulans er en tilpas grad af aktivitet og oplevelser. Det kan være at lave lektier sammen, at gå til svømning eller køre en tur på stranden. Det kan være at læse en bog eller udforske et emne på Youtube. Og såmænd også skærmtid i afpasset mængde. Igen ikke for meget eller for lidt, og husk børn er forskellige.
Søvn er alfa og omega. Et skolebarn skal typisk have 9-12 timers søvn, så det kræver gode rytmer og vaner. Et barn, som har sovet godt og længe, har et suverænt udgangspunkt for at lære noget.
Lykkes det ikke altid, skal man ikke panikke. Så må man prøve sig frem og indimellem have en øvdag.
Sundhed handler om de 7 kostråd: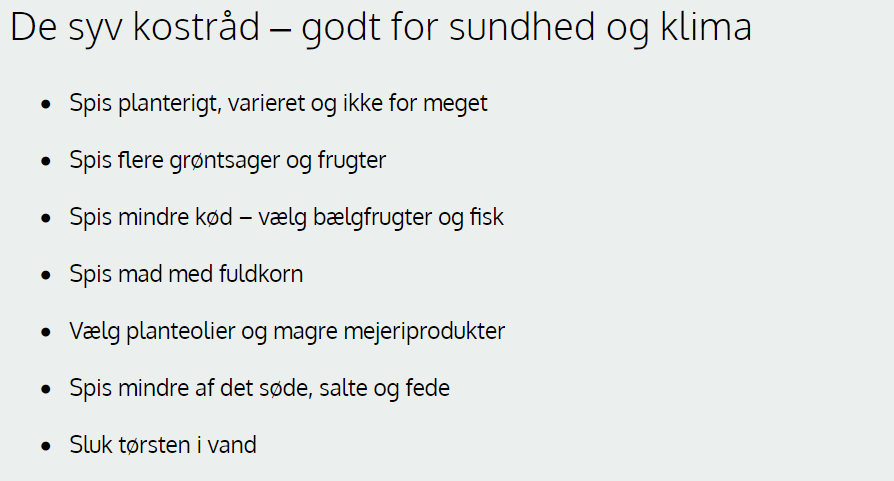 Vær ikke fanatisk men skab variation, spis tilpas og lad også lysten drive værket. Det er også godt med madmod – at prøve nyt og anderledes. 
Keep it simple!
Puha, John, det var da en kæmpe mundfuld. Den dårlige samvittighed melder sig og sveden på panden pibler frem!
Det hele lykkes på en god dag. En rejse begynder med et skridt ad gangen og Rom blev ikke bygget på én dag. Nyd det hele, øv jer sammen, det er ok at fejle. Det hele skal ikke være perfekt og udstillingsklart.